This one I got the idea from my cousin. I would have never guess that I was this princess--wow--interesting when you get to know yourself through a Disney character. This is fun, you should all try it!
You Are Esmerelda!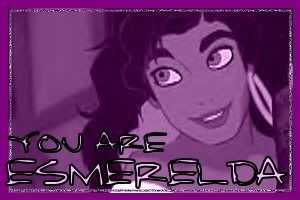 Mysterious and passionate. You are a survivor. Even though life has swung you some difficult situations you have a strong intuition that gets you through. Also, you have the capacity to sympathize and relate to a variety of different people.
Which Disney Princess Are You?